Agencies

Switzerland – Kyrgyzstan: Cooperation Programme 2017 – 2020
History of Cooperation
Swiss Cooperation with Kyrgyzstan began in 1993 shortly after Kyrgyzstan became independent and joined the Swiss voting group at the International Monetary Fund and the World Bank Group[1]. This special relationship was one of the reasons why Kyrgyzstan became one of the priority partners for the Swiss Cooperation in Central Asia.
On 14 November 1994, an official cooperation agreement was signed between the Swiss and Kyrgyz Governments and in 1996 the Swiss Cooperation Office was opened in Bishkek. Later, the Swiss Government decided to open an Embassy in the Kyrgyz Republic, inaugurated on 5 November 2012. The Cooperation Office is an important pillar of the Swiss Embassy with more than 20 staff members.
Since 1994, Switzerland has provided more than CHF 350 million to Kyrgyzstan (more than KGS 24 billion) in the form of technical, financial and humanitarian support.
Swiss Cooperation in Kyrgyzstan
Switzerland supports Kyrgyzstan in its economic, social and political transitions.
The overall objective of its cooperation programme is to promote peace and social cohesion as well as responsive and inclusive institutions and a sustainable development to improve the well-being of the population.
The Swiss Cooperation Office at the Swiss Embassy represents the Swiss Government and supervises Swiss projects implemented in Kyrgyzstan funded by two Swiss Federal Agencies – the Swiss Agency for Development and Cooperation (SDC) and the State Secretariat for Economic Affairs (SECO) in the following domains:
Health;
Employment and economic development;
Governance, institutions and decentralization;
Water, infrastructure and climate change.
In addition, the Swiss Cooperation in Kyrgyzstan promotes arts and culture through its Regional Arts and Culture Programme and supports small project proposals from local organizations that are focused on poverty alleviation, human rights protection and development issues at local level.
Swiss official development assistance to Kyrgyzstan in millions of Swiss francs
Overall planned budget for the period 2017 – 2020 is CHF 88.4 million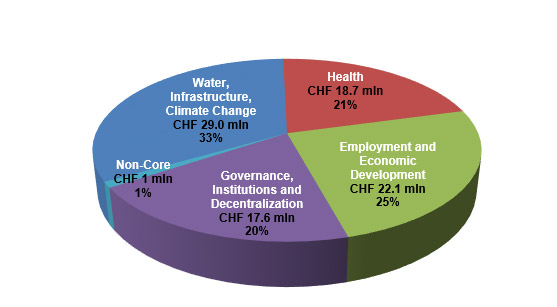 [1]
Today, the members in the Swiss constituencies at the Bretton Woods Institutions are Azerbaijan, Kazakhstan, Kyrgyzstan, Poland, Serbia, Tajikistan and Turkmenistan in the International Monetary Fund, and the same countries including Uzbekistan at the World Bank Group.