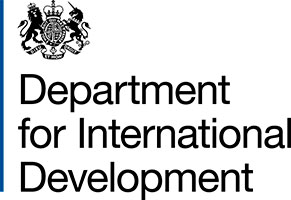 The Department for International Development (DFID) is the UK Government Department that is responsible for assisting partner countries to promote sustainable development and reduce poverty. The central focus of DFID's policy, based on the 1997, 2000 and 2005 White Papers on International Development is a commitment to the internationally agreed Millennium Development Goals, to be achieved by 2015. These seek to eradicate extreme poverty and hunger, achieve universal primary education, promote gender equality and empower women, reduce child mortality, improve maternal health, combat HIV/AIDS, malaria and other diseases, ensure environmental sustainability, and develop a global partnership for development. We contribute to poverty reduction in low and middle-income countries across the world, including Central Asia.
DFID works in partnership with governments committed to poverty reduction (the Millennium Development Goals), good governance and human rights. We also work with civil society, the private sector and the research community. We engage with multilateral institutions, including the World Bank, the United Nations agencies, the Regional Development Banks (such as the Asian Development Bank), the European Commission and all other development partners.
DFID is an active partner of the Joint Country Support Strategy in the Kyrgyz Republic. Currently 7 donors support the JCSS process and they have explicitly aligned existing and planned programmes to the Country Development Strategy. In addition to this, DFID is developing a Central Asia Strategy. The existing country programme in the Kyrgyz Republic will be used as an anchor for this wider regional approach, with a strong focus on working with key multilateral and regional agencies. Given the interdependency of countries in Central Asia, a regional approach is vital to maximise the impact of the country level programme.
DFID has been active in Kyrgyz Republic since 1997 and has a stand-alone office with diplomatic accreditation. Current expenditure on the bilateral programme is about ?7 million per year (~US $10 million). DFID focuses its assistance on Public Financial Management, support to health sector, support to the rural water sector and the Village Investment Programme. Cross-cutting themes are good governance and transparency and accountability. We also support a large regional HIV and AIDS programme from Bishkek. We work through a mix of aid instruments including technical assistance projects and joint on-budget financing to assist in implementation of the National Health Sector Strategy, and we fully apply harmonisation principles to our work.
DFID also finances a devolved Strategic Fund. This supports strategic, focused development events or initiatives, which meet the general policy criteria of DFID, but cannot be funded through one of our bilateral projects.
A Memorandum of Understanding between the United Kingdom and Kyrgyz Republic on British Assistance was signed and ratified by the Presidential Decree on 27 November 2001, and DFID is diplomatically accredited in the Kyrgyz Republic as a stand-alone office. We work closely with the British Embassy, based in Almaty.
DFID Programmes and Projects in the Kyrgyz Republic
Governance
A. Public Financial Management
1. Support to Strengthening Public Finance Management (Planning stage)
Timing: 2009 – 2011
Total Cost: ?4M
Consultant: to be defined
Recipient: Government of Kyrgyzstan – Ministry of Finance
Donor Partners: World Bank, Swiss, SIDA
Purpose: The programme works to strengthen effectiveness, efficiency and accountability of Public Finance Management.
B. Service Delivery
2. Health SWAp: Support to Implementation of the National Health Sector Strategy (On-budget co-financing)
Timing: 2006-10
Total Cost: ?7m
Implementer: Ministry of Finance (MoF)
Recipient: Government of the Kyrgyz Republic – MoF and Ministry of Health
Donor Partners: Joint financiers are the World Bank, DFID, SIDA, KfW and Swiss.
3. Strengthening the Health Policy Response to Poverty (Technical Assistance)
Timing: 2000 – 2010
Total Cost: ?2.9m
Implementer: WHO
Recipient: Government of the Kyrgyz Republic, Ministry of Health
Donor Partners: SWAp Donors
Purpose: To strengthen the capacity of Kyrgyz health policy makers to use evidence on health system performance to inform policy decisions to mitigate the effects of poverty
4. Rural Water Supply and Sanitation Project, Phase 2 (Planning stage)
Timing: 2009 – 2012
Total Cost: ?5M (Co-financing with WB, Trust Fund arrangement)
Implementer: Project Management Unit / Department of Rural Water Supply
Recipient: National Agency for Local Self-governance, Community Drinking Water Users Unions
Donor Partner: World Bank, Asian Development Bank
Purpose: To improve hygiene, sanitation and water supply facilities at village and family levels in Issyk-Kul, Talas and Naryn oblasts
5. Village Investment Programme (Co-financing VIP-2 with the WB)
Timing: 2007-10
Total Cost: ?7M
Implementer: ARIS (Community Development and Investment Agency)
Recipient: Communities,Local Self-Governments, Local Administrations
Donor Partners: World Bank, KfW
Purpose: Empowering communities to improve access to social and economic infrastructure services.
HIV and AIDS
6. Support to the national HIV/AIDS programme with a focus on harm reduction in vulnerable groups as part of our regional programme of support (Technical Assistance)
Timing: October 2004 – August 2010
Total Cost: (Regional - ?7.4M)
Implementer: GRM (National Partner – Soros Foundation)
Recipient: In the Kyrgyz Republic: Government of the Kyrgyz Republic – Office of the Prime Minister; National HIV/AIDS Programme; Civil Society Organisations
Donor Partner: World Bank, UN, USAID (Japanese Government, German Government, ADB)
Purpose: To ensure effective implementation of comprehensive, national HIV/AIDS programmes (including in the Kyrgyz Republic)
Additional Technical Assistance
Public Financial Management Joint Donor Positio n
Public Financial Management – Co-financing of Public Expenditure Framework Analysis (PEFA)
Extractive Industries Transparency Initiative (EITI) – Co-financing additional support to the Government jointly with the World Bank
Medicine Transparency Alliance (META) –Kyrgyzstan is a pilot country for 2009-2010
Recent Projects:
GSAC - support to the Governance Agenda (Technical Assistance)
Rural Water Supply and Sanitation Project (TA alongside WB loan)
Technical Support to Village Investment Programme
Land and Agrarian Reform (phase 2): Third Party Arbitration (TPAC)
Rural Hygiene and Sanitation Project (RHSP)
Sustainable Livelihoods of Livestock Producing Communities (SLLPC)
Statistical Capacity Building in Support of the CDF/PRSP process
Tariff Policy and Utility Reform
Modernisation of Public Administration
Medium–Term Budget Framework formulation
Chamber of Accounts and External Audit
Strategic Fund
Fourteen interventions funded in Financial Year 08/09 including: Public Financial Management; elections; aid effectiveness; public policy debates; transparency work; child rights protection, and external audit and financial management issues in the health sector.
For more information about DFID's work in Kyrgyzstan please visit www.dfid.gov.uk
If you are a journalist and wish to know more about DFID and its work to reduce poverty in Central Asia please call DFID press office: 0207023 0600.